Dunkery Beacon, the highest point on Exmoor and Somerset
October 13. 2014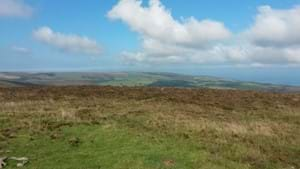 Well, the sun was still shining, just about, in Exmoor.
It was a beautiful day for a walk to the highest point on Exmoor, Dunkery Beacon,  Expectations from us were high, taking 2 two and a half year olds and no buggy!  Luckily, we had an aunt and uncle with us to help carry the little legs if they did get tired.
We set off, 4 adults, 3 toddlers and 2 dogs.  The path isn't steep, just a fairly long but gentle slope.  The girls managed surprisingly well, with just 1 tumble which resulted in them both needing to be carried on shoulders - thank goodness for the men.
Just an hour later, and under a miles walk, we reached the top which was pretty busy with lots of people and dogs.  The girls were excited to climb the 'mountain', the top of the rocks.  The walk was definitely worth it, the views from Dunkery Beacon are spectacular.  At 520m (1705ft) above sea level, this isn't really surprising, you can see both the Bristol and English Channel coasts, the Brecon Beacons including Pen Y Fan, Bodmin Moor, Dartmoor, the Severn Bridges and Cleeve Hill 86 miles (138 km) away in Gloucestershire.
Just 10 minutes later, it was time to head back to the car, we had plans for cream teas at Horner tea rooms.